Diet Differences in African Americans
There are a number of important diet differences in African Americans that need to be considered prior to offering advice regarding improvements or adjustments. To tell someone to "eat better" without first knowing their current diet is a waste of everyone's time.
Some of the basic foundations of African Americans' diet stem from slavery days, but there are also more recent adaptations that have slowly weaved into the fabric of the African American diet. Some of the changes were economic and others more convenience and culture-related. To sum up the African American diet by only referring to slave influences is to ignore one and a half centuries of added impacts that made the African American diet what it is today. Food availability, storage, financial independence, health literacy, and a sense of history and heritage all contribute to the ever changing components of the widening African American diet.
More Cultures Adding Diet Changes
With the ever changing make-up of African Americans, their diet is equally changing. More Africans, Caribbeans, and mixed races folds in a number of cultural nuances that need to be considered. Even within the African American community, the diets vary greatly. Some sub-cultures eat more rice while others prefer pasta. Some avoid pork for religious reasons, while other avoid beef due to poor digestion or its increasing cost.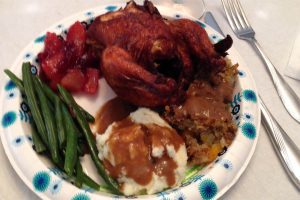 These considerations aside, the basics of the African American diet mirror an American diet. The "average" meal will have meat, starch, and vegetables in varying proportions.
Adding Meat to Your Vegetables??
African Americans more frequently will have their vegetables cooked rather than fresh. Because of the scarcity of meat as a main course in slavery days, seasoning these cooked vegetable dishes with fatty cuts of low preference meat (whether smoked or not) quickly became a mainstay in the African American diet. Having the lean cuts reserved exclusively for the more affluent, African Americans became accustomed to other cuts of meat (ham hocks, neck bones, and ox tails, etc.).
Now that the scarcity of meat is much less of a logistical problem, the 'habit' or custom of adding meats to vegetables is now merely a standard way to cook them. String beans, collard/mustard/turnip greens almost always have a smoked (and/or salted) cut of meat in the pot. Because of a growing aversion to pork products in some circles, a significant number of African Americans use smoked turkey to season cooked vegetables and beans.
African Americas Do Eat More Chicken
The breakdown in terms of specific meats preferred by African Americans show a predominance of chicken and turkey, as well as relatively more fish and pork, but less beef than white or Hispanic American diets.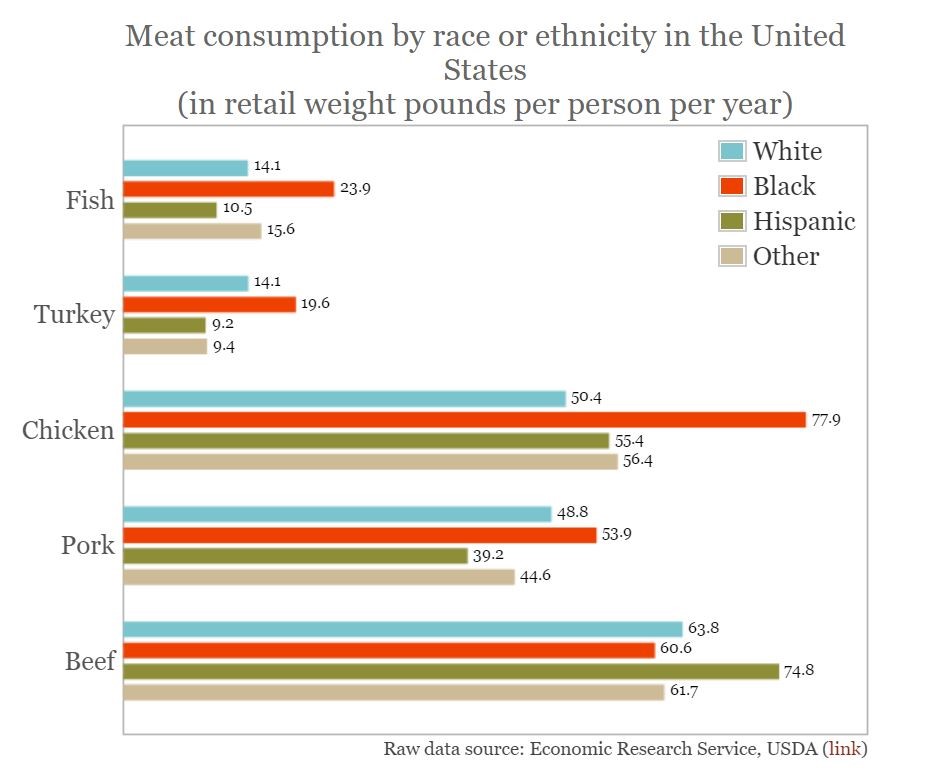 Overall, African Americans eat less grains, fewer eggs, less vegetables, and much less milk, but they consume significantly more meat and fruits. By increasing the amount of vegetables, particularly fresh uncooked in the form of salads, more nutritional balance can be brought to the African American diet fairly easily. The increased consumption of fish and poultry (both chicken and turkey) already represents a beneficial existing tradition.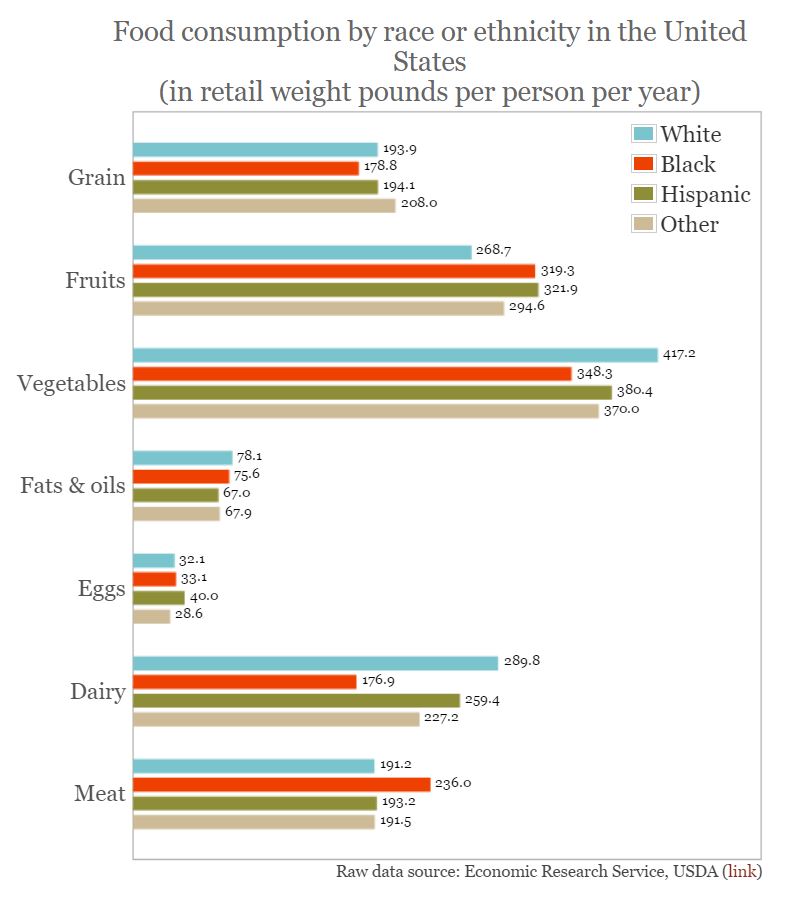 Although African Americans eat relatively fewer vegetables, there are also distinct differences within this category with an increased consumption of fresh green beans, fresh cabbage, and fresh greens when compared with other vegetables.
African Americans Prepare More Meals "From Scratch"
African Americans prepare more meals "from scratch" when compared to majority populations. This diet difference in African American home cooking leads to comparatively more purchases of cooking items including spices, seasonings, oils, and preparation items including baking powder, flour, extracts, and sugars in multiple forms.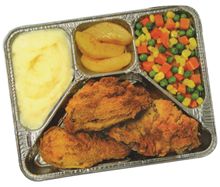 The more "home cooking" done in African American kitchens leads to less consumption of pre-processed or ready-to-eat foods which is considerably beneficial. Conventionally, when people think of processed and ready-to-eat foods, they generally equate them with poor nutritional quality and lower socio-economic status. Poti, Mendez, and colleagues looked at the nutritional value of "processed foods" and found they have "higher saturated fat, sugar, and sodium content" when compared to lesser processed foods. Because of the higher proportion of African Americans that are poor, many assumed that they too consume more ready-to-eat foods, but studies reveal that, in fact, African Americans buy less overall ready-to-eat and/or highly processed foods when compared to European Americans.
More Sugary Sweetened Drinks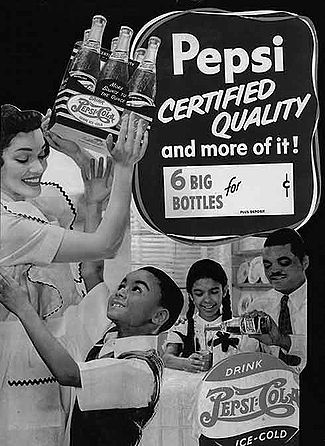 One glaring exception in the purchasing of pre-processed foods was African Americans' tendency to purchase a much higher proportion of pre-processed sugary beverages when compared to white Americans, and a much lower volume of milk and dairy purchases. Marketing campaigns targeting African Americans like the one to the right from the 1940's is just one of many that drove up the consumption of surgery beverages.
Other exceptions include a significantly higher consumption of bacon and sausages. Finally, there was also an increased purchasing of processed sweeteners including sugar, syrups, jams and jellies in African American consumers.
While there is far more diet differences in African Americans to cover, the best way to advise a patient on their diet is to first know their specific diet . . . don't generalize . . . interview. Find out what, exactly, they eat, and then devise an alternative plan with suitable substitutions. Very few people will be able to completely change their diet, and providers should not expect this because it is unrealistic. But we should be able to give helpful advise based on a detailed interview.
Check out this great video on cooking oils and the dangers of reusing oils !!