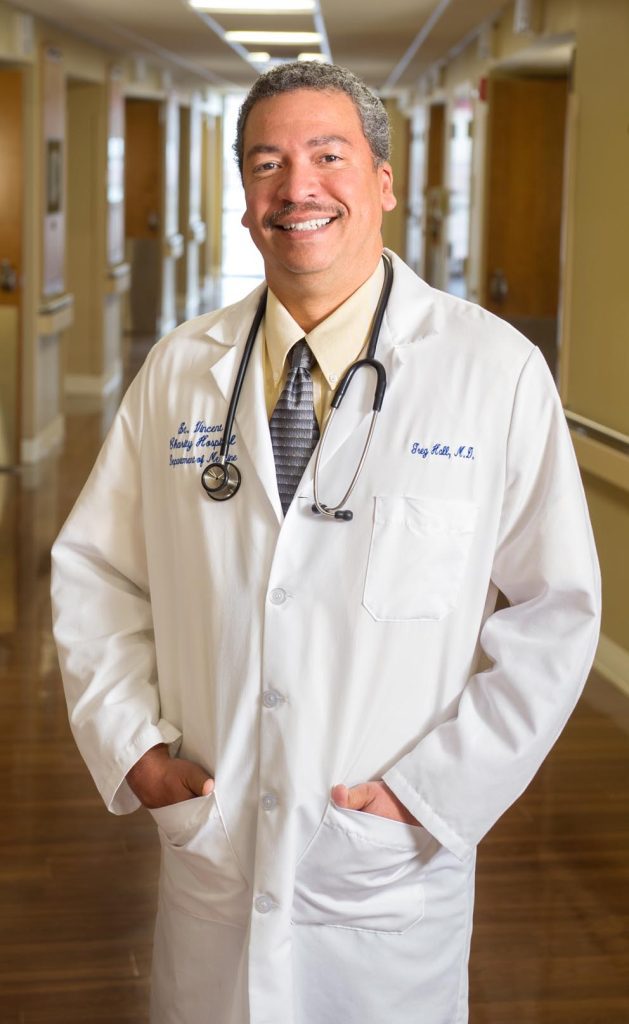 Greg Hall, MD, is a primary care physician practicing in Cleveland, Ohio for over 20 years. A native Clevelander, he attended Cleveland Public Schools until he was given a scholarship to attend University School in Hunting Valley, Ohio. After high school, he attended Williams College (ranked the number 1 liberal arts college in the country by US News) and majored in psychology while taking pre-med coursework.
After graduation from Williams College with a bachelor's degree in psychology, and working summers as a research assistant at the Cleveland Clinic, he attended the Medical College of Ohio, and completed residency in Internal Medicine at the Cleveland Clinic Foundation.

Dr. Greg Hall serves on the clinical teaching faculty at Northeast Ohio Medical University College of Medicine as well as CWRU School of Medicine and has an appointment of Assistant Clinical Professor at both schools.  He has co-chaired the City of Cleveland's Public Health Advisory Committee, and co-chaired the leadership board of 
Steps to a Healthier Cleveland
 which oversaw health awareness and improvement activities throughout the area.

In 2002, Dr. Hall received a governor's appointment to the Ohio Commission on Minority Health, on which he
now serves as Chairman.
  In 2004, Dr. Hall was appointed to chair the
Cleveland Clean Indoor Air committee
which spear-headed smoke-free public spaces. 
In January of 2008, he was appointed to Ohio Medicaid Medical Care Advisory Committee and served on its executive committee.

In 2010, he was appointed to the
Cuyahoga County Board of Health
which oversees Ohio's largest county's broad range of quality driven public health programs and services.

At St. Vincent Charity Medical Center, Dr Hall serves as Medical Director of Community Outreach & Post-Acute Care. And in the
post-acute community
, he acts as the 
Medical Director of:
University Manor Nursing Facility
The Willows Nursing Facility (formerly Indian Hills)
Crawford Manor Nursing Facility
He has lectured on various topics ranging from hypertension to permanent body art . . . to health disparities, but his latest passion is to improve the general public's knowledge about the important differences in the medical care of African Americans. His websites,
ShouldITattoo.com
and
TeensTattoosAndPiercings.com
are visited by over 100,000 people across the world every year.
Health equity and access to quality health care should be an important aspect of your life.

An avid writer, Dr. Hall's article
"Are pop stars destined to die young?"
was wildly successful making him Case Western Reserve University's top-rated authors on
The Conversation
with multiple republications including
CNN
, the Medical Daily, and the Associated Press . . . and with well over 200,000 reads.