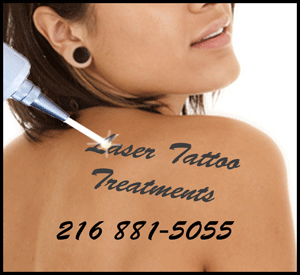 Dr. Hall performs laser tattoo treatments for basic black and red tattoos. His office in Richmond Heights on the east side of Cleveland offers a convenient location that's easy to find. 
We will evaluate your tattoo in terms of size, color, skin tone, and any scarring risk you may have.  We will then map out a tattoo removal treatment strategy that works best for you, your tattoo, and your finances.
Call for a FREE estimate!!
By far the best, easiest, and most effective way to remove / fade tattoos is laser tattoo removal. Through the process of "selective photothermolysis" just the cells with the ink are targeted by the laser. Generally, cells without ink are left unaffected unless there is damage from the "shattering" of nearby pigmented cells. This non-invasive technique allows the body to absorb and take away the ink debris after the laser causes the skin cell holding  the ink to rupture.

Because a significant amount of ink is deposited in the dermis to make the tattoo highly visible, multiple laser treatment sessions will be needed to remove the ink due to ink's depth and density in the skin. 
After each laser treatment, your body's immune system will carry away the ink and cell debris leaving a progressively more faded tattoo. Removing a tattoo in one session is incredibly rare, and should not be expected. 
How fast the ink fades depends on a number of factors, but here are some common experiences with laser tattoo removal:
1.       Newer tattoos come off better than older tattoos.
2.       Amateur tattoos come off better than professionally done tattoos.
3.       Tattoos in parts of the body with better circulation come off faster. A tattoo on your chest, back, face, or neck will come off faster than your hand or feet.
4.       Tattoos come off faster on younger people (better circulation).
5.       Tattoos come off faster on non-smokers (better circulation).
6.       Tattoos come off faster on healthier people (no diabetes, high cholesterol, stroke, etc. — these all impact the circulation).
7.       Basic colors (black, grey, dark blue, etc.) come off better than "vivid" colors (purple, bright green, light blue, etc.).
8.       Tattoos come off faster on lighter pigmented people than darker people. Because the laser targets the darker color of tattoos, the contrast between the tattoo and the skin color allows for the laser to be put to a higher power setting. This higher setting can potentially cause more cell death to inked as well as non-inked (yet pigmented) cells, and lead to more scarring. Darker skinned patients are therefore at higher risk for scarring and incomplete tattoo removal.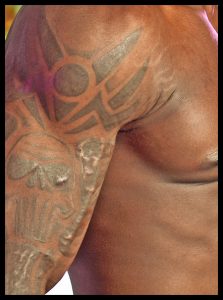 9.       If you developed scarring during the tattoo process (as seen in the photo to the right), laser tattoo treatment may also cause further "lifting of the skin" thus removing the ink but leaving a scarification effect (that will likely be undesirable).  
Because the pigment cells are shattering from the laser reaction, you will experience pain or discomfort during the process. A topical anesthetic can be purchased for an additional fee, or ice packs, or cooling air can be used to make the session more comfortable. Everyone's pain tolerance is different but most people relate the pain of removing a tattoo to the pain of getting one. 
The important issue is for you to have all of the facts, know all of your options, and be fully informed before, during, and after the procedure. You may have already rushed into getting a tattoo, don't rush into laser treatments!!   Get all of the information you need first. 
Here is a video that explains the laser tattoo process fairly well. Take a look. 
Let's BRING BACK THE NEW YOU !!
(216) 881-5055 
Laser tattoo removal can be done, but it will take a while! You need commitment to getting it removed, and a lot of patience.
We will conduct a thorough medical history and examination of the tattoo, and provide an estimate of how many sessions will be needed for successful removal and what you can expect along the way. The cost is related to the size and complexity of the tattoo and ranges from as little as $75 per session (single color) for a small tattoo and increases based on the size. You can choose to have all or just part of your tattoo removed.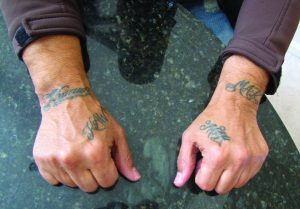 Your sessions will be at least six to eight weeks apart so budgeting your installments should be no problem, and the end result should be a new rejuvenated you!
For more information about tattoos and piercings, go to shoulditattoo.com!