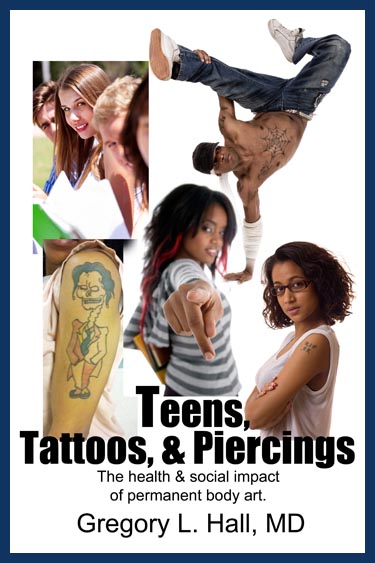 Improving Body Art Education in Teens
Because of the close doctor-patient bond formed, some patients over the years have confessed their deep seated regret for tattoos they got in their teens. Some have names of long-forgotten teenage loves, while others, on a teenagers budget,  just don't like the appearance.
After searching for a permanent body art education book he could give to his younger patients to avoid some of this tattoo regret, Dr. Hall discovered there were no books of this kind.
None.
This prompted a year-long research with everything body-art related, and resulted in the publishing of the FIRST book that addresses the health and social impact of permanent body art:
"Tattoos, Should I or Shouldn't I?" now available on Amazon for $19.99. The response to this first book was tremendous but there was a call for a book aimed at much younger teens, and written at their level. 
And a  year later, school systems were seeking the book, but needed more information on the health ramifications of the piercings many of the students were getting, so Dr. Hall wrote and published "Teens, Tattoos, & Piercings."
Currently, Dr. Hall speaks nationally about teens, tattoos, and piercings and is seen as a positive and nonjudgmental advocate for healthy body art education. 
Check out Teenstattoosandpiercings.com for more information about the books and the topic in general.