As you have probably heard, laser tattoo removal on dark skin is a real challenge.  The process takes longer, is frequently more expensive (because you have to go more often), and can be more plagued by less perfect outcomes.  Because African American "keloid" more easily than white Americans, the laser result can (and frequently does) show this 'build-up' of skin.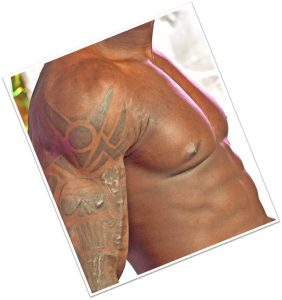 In deciding whether to have laser treatments, you will have to decide if you would be "okay" with a scarred outcome rather than a tattoo.  The current lasers on the market are not ideal for darker skin colors and the outcomes are frequently not what people expected.
The key is to treat skin of color differently than white skin. Not better or worse, simply different.  In these cases, laser tattoo removal on dark skin has to be approached delicately and with great care.  Slow and steady is always the best approach and wait 6 weeks at least between sessions to allow your skin to heal.